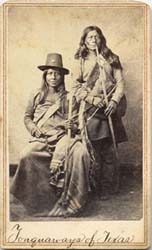 In the case of photographs of Native Americans from the 19th century, it is always worth asking if they have full agency in the representation of themselves in any given image.

So, for example, in this photograph of the two Tonkawa men, we can ask: For whom was this image made? It is a carte de visite, which means it was printed from a glass plate negatives, and so many copies could have been made by the photographer. The fact that it bears the title "Tonquaways of Texas" indicates that the images was indeed printed for a clientele other than these two men, who would not need this label. As such, it was probably sold to white patrons of the photographer as a quasi-ethnographic souvenir.

But even if that were the case, photographic images such as this, especially quite early ones, provide important and rare evidence about the lives and cultures of Native peoples.