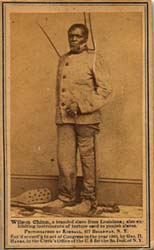 This photograph shows Wilson Chinn, a former enslaved person, displaying implements of bondage and punishment used against slaves such as he had been. The image is one of a series of photographs produced in 1863 to lend moral support to the Union cause in the Civil War and to raise funds for schools for African Americans in the occupied Confederate territories. Chinn and seven other former slaves, both adults and children, came north for a publicity tour, accompanied by an officer from one of the newly formed regiments of African American soldiers.

Chinn had been enslaved to a man named Volsey B. Marmillion, who ran a sugar plantation near New Orleans. Marmillion had the habit of branding his slaves with his initials, VBM, and this can be seen on Chinn's forehead here ― the brand is retouched on the photography's negatives, as it must have been hard to see (click on the image to the left for a close-up). The spiked collar would prevent a person from lying down, the leg iron would prevent running, and the perforated paddle on the floor was for beatings.

The caption of this photograph reads in part: "Wilson Chinn, a branded slave from Louisiana; also exhibiting instruments of torture used to punish slaves. Photographed by Kimball, 477 Broadway, N. Y. Ent'd accord'g to act of Congress in the year 1863..."

Text printed on the reverse of the card reads: "The proceeds from the sale of these Photographs will be devoted exclusively to the education of colored people in the Department of the Gulf, now under the command of Major-General Banks." The back is also stamped: "All Orders Must Be Addressed to H. N. Bent, 1 Mercer St., N. Y." See the enlarged illustration below.