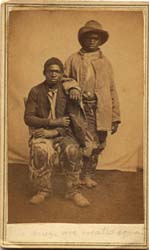 This photograph depicts two young African American men in rags. They are almost certainly "contrabands," a name given to enslaved people who escaped from their masters once the Civil War broke out and sought refuge with the Union forces in Confederate territory. It is likely that they were photographed by an itinerant photographer at a Union army camp.

Someone (almost certainly the person who purchased this image) has written on the mat in pencil: "All men are created equal" ― quoting in part perhaps the most famous line from the Declaration of Independence, namely that "We hold these truths to be self-evident, that all men are created equal."

On the back of card (see an enlarged illustration below), the same person goes on to write: "This is not exagerated [sic] in the least - : not one out of ten of the niggers here, who have run away from their masters (and there are thousands of them) can boast of such good clothes. Shove them into the army, I say, and let them do the fighting in this hot Department."

Given the mention "this hot Department," which means an occupied territory of the Confederacy where considerable combat was still taking place, it was probably a solder who bought this photograph from a camp sutler (a merchant who would travel with an army to sell goods to the soldiers). He seems to have then sent it by mail, with the message inscribed on the photograph, to a friend or family member.