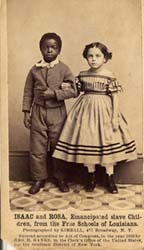 The caption on this photograph reads in part: "ISAAC and ROSA, Emancipated slave Children, from the Free Schools of Louisiana. Photographed by Kimball, 477 Broadway, N. Y. Ent'd accord'g to act of Congress in the year 1863..."Printed text on the back of the card reads: "The proceeds from the sale of these Photographs will be devoted exclusively to the education of colored people in the Department of the Gulf, now under the command of Major-General Banks."

This portrait forms part of a series of portraits of a group of former slaves who toured in the North during the Civil War. They were photographed and featured in newspaper articles to bolster support for the war and to raise funds for schools and other support for emancipated slaves.

To see other photographs in this series, please click here.