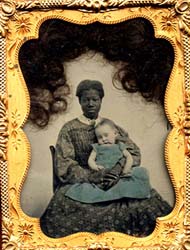 In this highly unusual image, human hair, placed between the glass cover and photographic plate, frames the image. It was not uncommon for family members to place locks of their loved ones hair together with their portraits, pinning the hair into the mat, but this portrait incorporates the hair into the composition of the photograph itself.

We do not know who the woman or the baby were, but the type of photograph (an ambrotype) and its style of case and mat suggest a date of the late 1850s to the early 1860s.

Exposure times in early photography could be quite long, and so a baby or toddler would often have to be held to prevent a blurred portrait. The African America woman holding this white baby still is almost certainly its nanny. Was she enslaved, or a free servant living in a free state? We do not know.