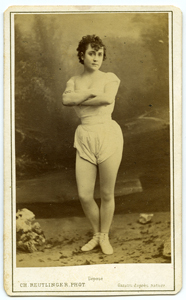 Adah Isaacs Menken (1835-1868) was a dancer, performer and poet. Her origins were obscure even in her lifetime, but she seems to have been born as Adelaide or Ada C. McCord in Louisiana, and she took the stage name Ada Bertha Theodore until her first marriage. She had a short but sensational career as an actress, her fame due as much to her own genius for self-promotion as to talent. Her most famous role was playing a man in Byron's Mazeppa, wearing a flesh-colored body stocking to appear nearly nude, a shocking thing to do at the time, and this photograph portrays her in that role.

Menken wore her hair short, smoked at her press conferences, and flaunted her connections with famous men. She married six times. Her first marriage was to Alexander Isaacs Menken, who was Jewish and for whom she converted; she remained in the faith until her death. Her origins are disputed, with reports of lineage that includes a Spanish Jewish father, a New Orleans creole mother, and a free Black father, among other accounts. Menken seems to have reveled in this kind of dramatic ambiguity.

From 1864 to 1866, Menken took her Mazeppa role to London and Paris, where it had enormous success, in part due to her notoriety, but attention waned as the novelty wore off. Menken died in Paris in 1868.

The photographer Charles Reutlinger (1816-1881?) was born in Karlsruhe, Germany, and opened a studio in Paris in 1850, where his clients included the upper echelons of society. Menken visited his studio during her European theatrical tour. Menken would have used copies of this carte de visit for publicity and sales for the Mazeppa production.

A contemporary (but not necessarily reliable) account of Menken's life may be read here. A collection of Menken's poetry, Infelicia, may be read here.Adah Issacs Menken managed to flout many of the most hardened conventions of her time: she converted to marry a Jew, she smoked, she wrote and published on topics a "lady" would not discuss in that era, she appeared on stage nearly nude, she divorced five times, she dressed as a man for roles on the stage -- to name some of her transgressions.

Add to this the strong possibility that she was mixed race and her career raises important questions about the performative nature of both racial and gender identity. What did it take to "pass" over these lines as boldly as Menken did? How was it possible for her to have public success at all when she violated some of the most stubborn taboos of her society?