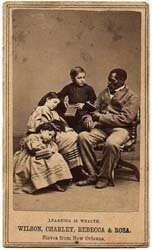 This photograph is another in the series of former slaves from the New Orleans area who obtained freedom during the Civil War and participated in one of the first photographic publicity campaigns to support a cause ― in this case, the Union and schools for former slaves.

The caption on the front of the card reads: "Learning is Wealth. Wilson, Charley, Rebecca & Rosa. Slaves from New Orleans." Printed on reverse: "No. 6. / Entered according to Act of Congress, in the year 1864, by S. Tackaberry, in the Clerk's Office, of the District Court of the United States, for the Southern District of New York. / The nett proceeds from the sale of these Photographs will be devoted to the education of Colored People in the department of the Gulf now under the command of Maj. Gen'l Banks. / Chas. Paxson, Photographer, New York. / N. B. ― All orders must be addressed to H. N. Bent, No. 1 Mercer Street, New York."

Wilson is Wilson Chinn, who appears in another image in this exhibition displaying the chains and implements of punishment used on slaves. For more images in this series of photographs of former slaves, see here.